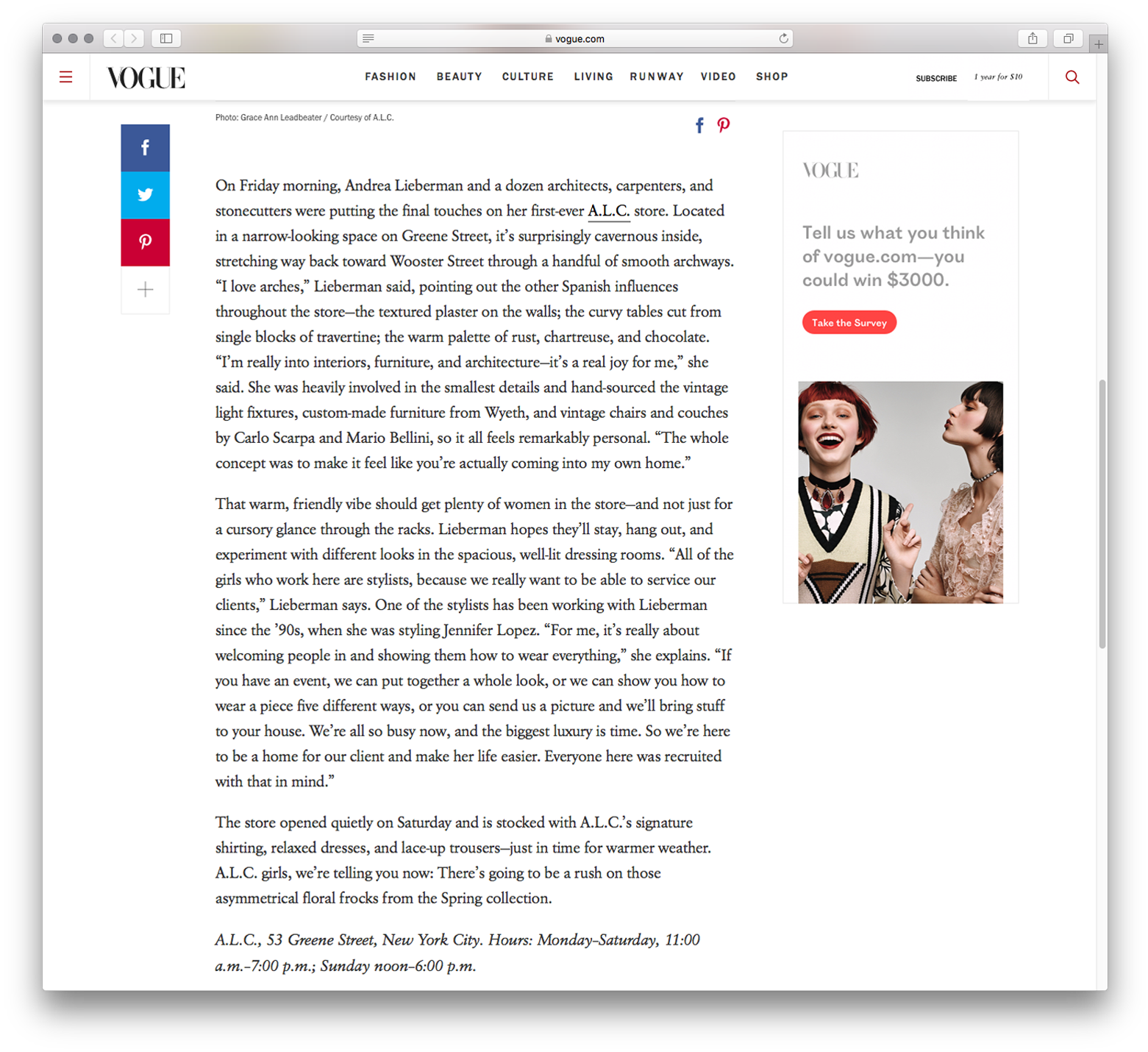 A.L.C.' FIRST STORE IN SOHO IS STAFFED
WITH A TEAM OF REAL-DEAL STYLISTS
APRIL 9, 2018
Text by EMILY FARRA, Photography by Grace Ann Leadbeater
On Friday morning, Andrea Lieberman and a dozen architects, carpenters, and stonecutters were putting the final touches on her first-ever A.L.C. store. Located in a narrow-looking space on Greene Street, it's surprisingly cavernous inside, stretching way back toward Wooster Street through a handful of smooth archways. "I love arches," Lieberman said, pointing out the other Spanish influences throughout the store—the textured plaster on the walls; the curvy tables cut from single blocks of travertine; the warm palette of rust, chartreuse, and chocolate. "I'm really into interiors, furniture, and architecture—it's a real joy for me," she said. She was heavily involved in the smallest details and hand-sourced the vintage light fixtures, custom-made furniture from Wyeth, and vintage chairs and couches by Carlo Scarpa and Mario Bellini, so it all feels remarkably personal. "The whole concept was to make it feel like you're actually coming into my own home."
That warm, friendly vibe should get plenty of women in the store—and not just for a cursory glance through the racks. Lieberman hopes they'll stay, hang out, and experiment with different looks in the spacious, well-lit dressing rooms. "All of the girls who work here are stylists, because we really want to be able to service our clients," Lieberman says. One of the stylists has been working with Lieberman since the '90s, when she was styling Jennifer Lopez. "For me, it's really about welcoming people in and showing them how to wear everything," she explains. "If you have an event, we can put together a whole look, or we can show you how to wear a piece five different ways, or you can send us a picture and we'll bring stuff to your house. We're all so busy now, and the biggest luxury is time. So we're here to be a home for our client and make her life easier. Everyone here was recruited with that in mind."
The store opened quietly on Saturday and is stocked with A.L.C.'s signature shirting, relaxed dresses, and lace-up trousers—just in time for warmer weather. A.L.C. girls, we're telling you now: There's going to be a rush on those asymmetrical floral frocks from the Spring collection.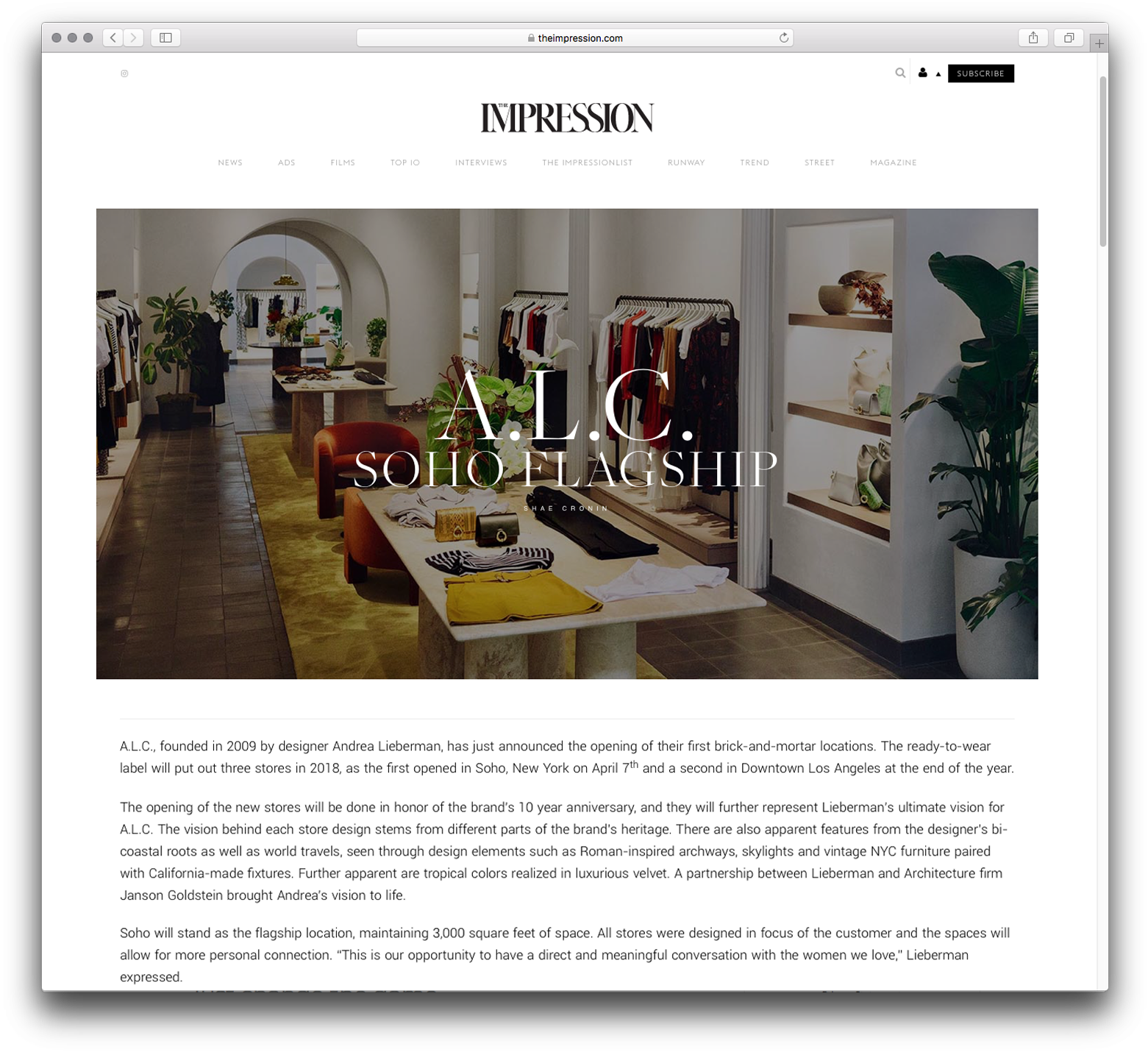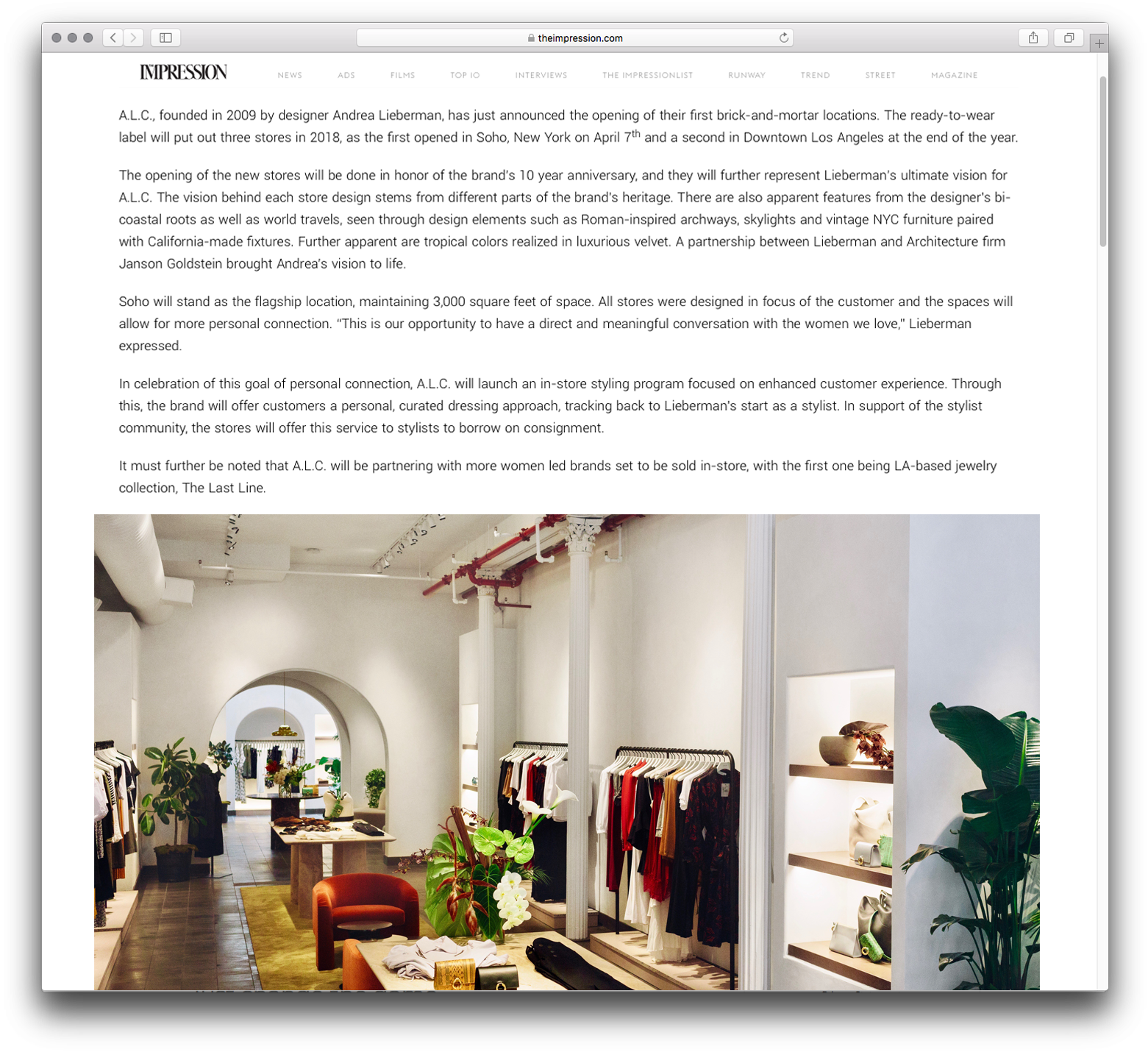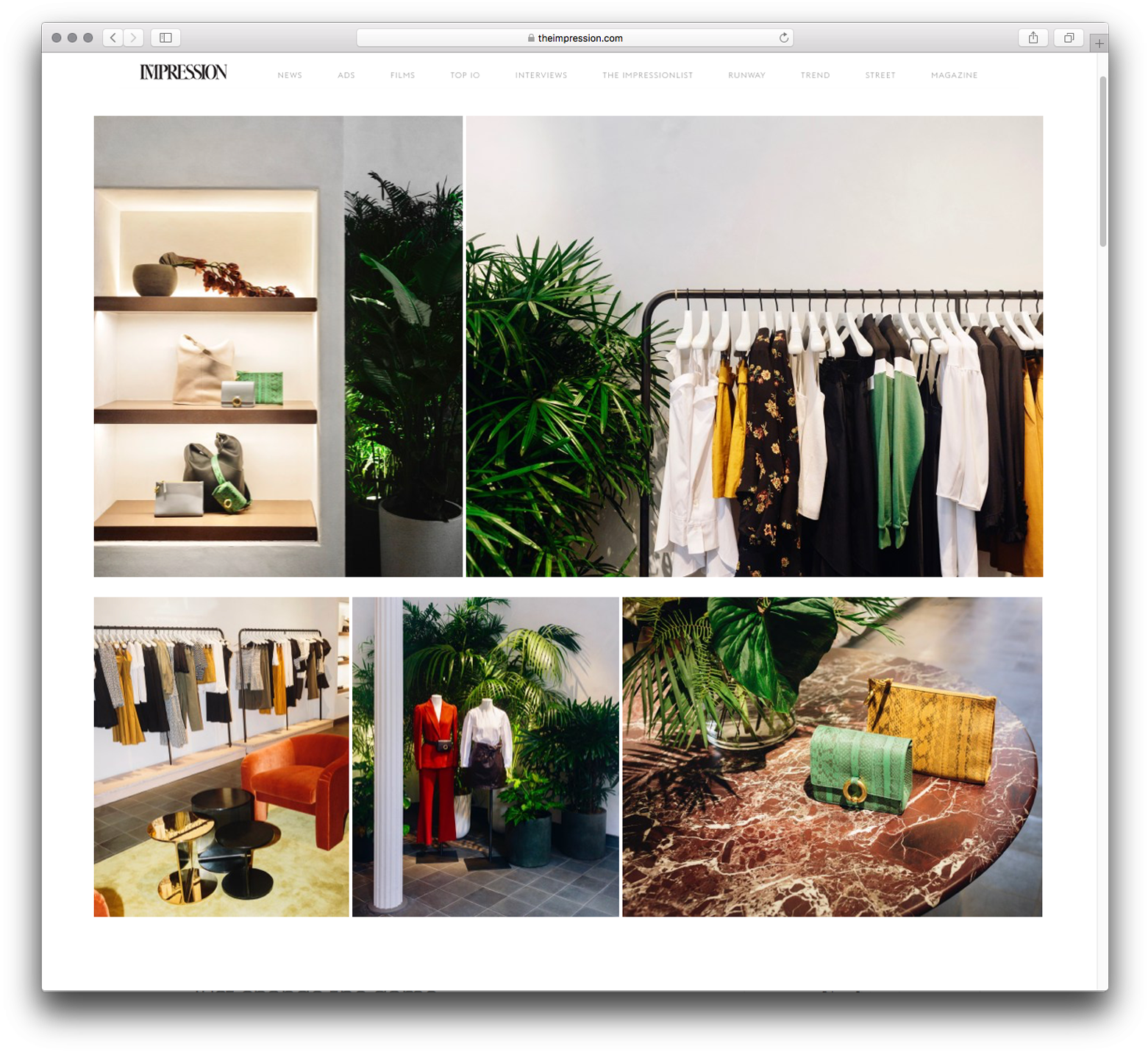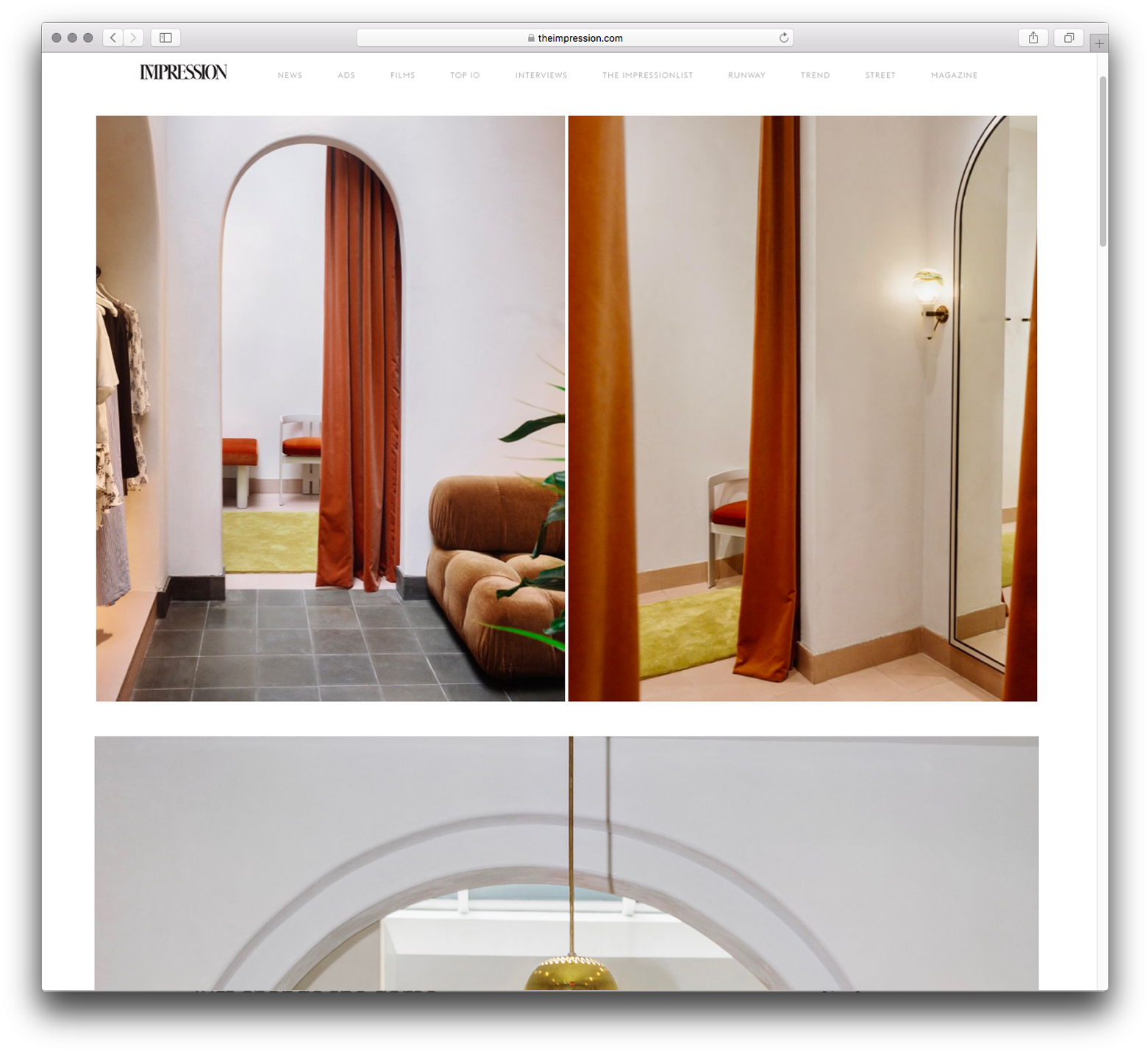 THE IMPRESSION
A.L.C., founded in 2009 by designer Andrea Lieberman, has just announced the opening of their first brick-and-mortar locations. The ready-to-wear label will put out three stores in 2018, as the first opened in Soho, New York on April 7th and a second in Downtown Los Angeles at the end of the year.
The opening of the new stores will be done in honor of the brand's 10 year anniversary, and they will further represent Lieberman's ultimate vision for A.L.C. The vision behind each store design stems from different parts of the brand's heritage. There are also apparent features from the designer's bi-coastal roots as well as world travels, seen through design elements such as Roman-inspired archways, skylights and vintage NYC furniture paired with California-made fixtures. Further apparent are tropical colors realized in luxurious velvet. A partnership between Lieberman and Architecture firm Janson Goldstein brought Andrea's vision to life.
Soho will stand as the flagship location, maintaining 3,000 square feet of space. All stores were designed in focus of the customer and the spaces will allow for more personal connection. "This is our opportunity to have a direct and meaningful conversation with the women we love," Lieberman expressed.
In celebration of this goal of personal connection, A.L.C. will launch an in-store styling program focused on enhanced customer experience. Through this, the brand will offer customers a personal, curated dressing approach, tracking back to Lieberman's start as a stylist. In support of the stylist community, the stores will offer this service to stylists to borrow on consignment.
It must further be noted that A.L.C. will be partnering with more women led brands set to be sold in-store, with the first one being LA-based jewelry collection, The Last Line.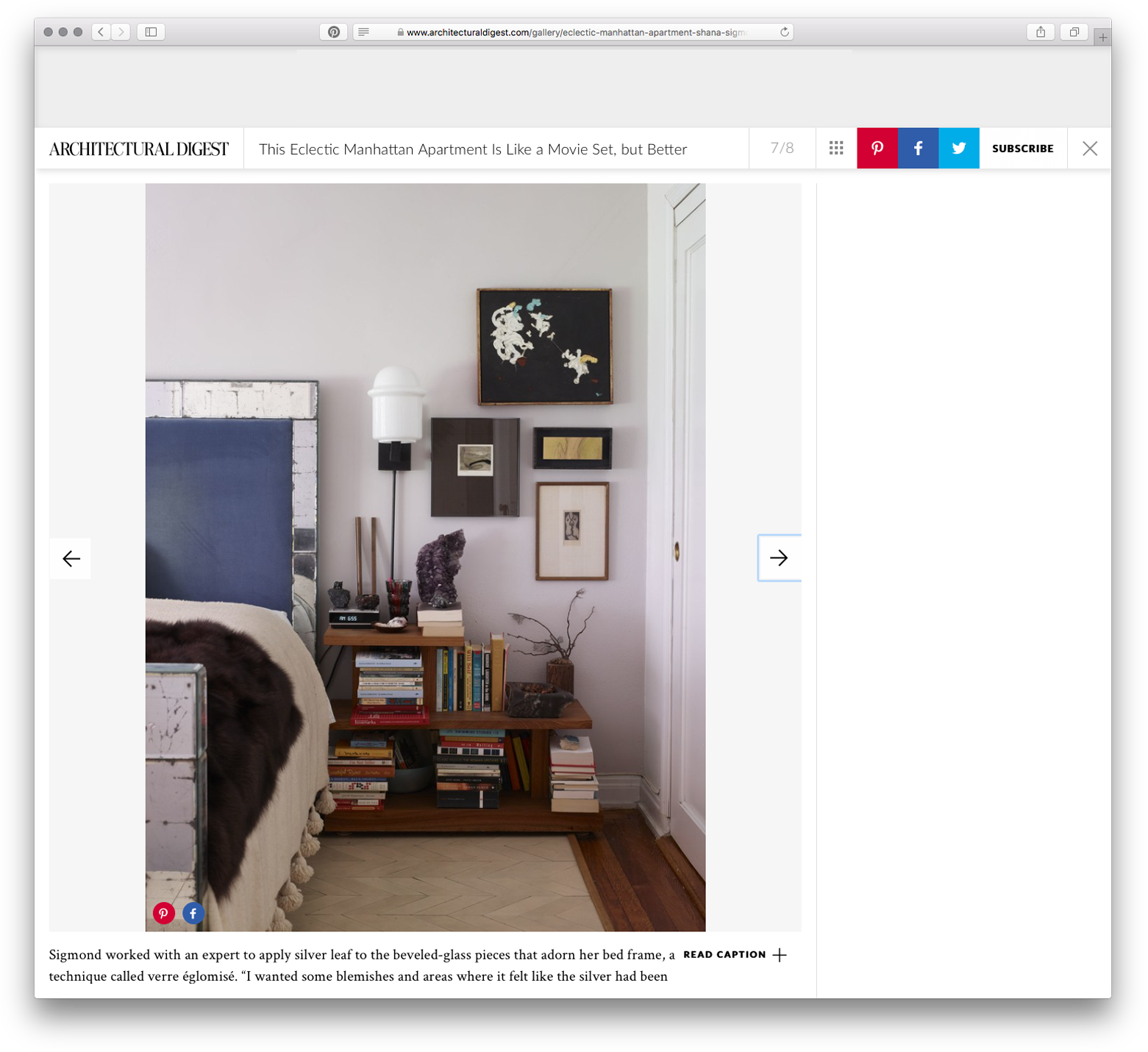 ARCHITECTURAL DIGEST
SEPTEMBER 17, 2017
Text by HANNAH DOOLIN, Photography by Simon Upton
Interior designer Shana Sigmond actually got her start on the silver screen—though not in the way you might expect. As a Hollywood set designer, Sigmond spent years hunting down everything from finishes to furnishings, transforming environments for blockbusters like Ocean's Eleven and Almost Famous. A decade working with directors like Steven Soderbergh, David Fincher, Cameron Crowe, and Francis Ford Coppola afforded her the chance to illustrate their visions on screen with detailed portraits of the characters' lives. "The experience taught me how to convey tone, mood, time, place, and character, relying only on our sense of sight," Sigmond says.
Since shifting away from the film industry and relocating to New York City, Sigmond has spent the last seven years applying those same visual storytelling skills to real-world design work. She moved on to collaborate with design firms Peter Marino Architect and Roman and Williams, and led the design team at WeWork. Now, as the head of her own firm, Shana Sigmond Studios, she creates personalized narratives for her clients, whether they are homeowners or hoteliers.
Sigmond's own New York City apartment stands as a prime example of how she effortlessly weaves character into a space without making it feel manufactured. "Like a good book or a great movie, I'm interested in creating environments that don't reveal themselves in their entirety until after some time," she says. "I like for people to find surprises and idiosyncrasies that surface only after you've been in a place multiple times." When Sigmond moved into her 800-square-foot one-bedroom in west Chelsea, she embraced the challenge of limited square footage. Instead of knocking down walls, she used the apartment's confines as a practice in restraint, considering how she would realistically use each room. "It was really a shift in thinking instead of a shift in space," she says.
At every turn, Sigmond's light-filled apartment is scattered with collections of custom pieces, flea market finds, and mementos from her travels and past design projects. While certainly thoughtfully considered, the vignettes she creates never feel precious—to Sigmond, even pretty things should have a purpose. "We should ask ourselves what works, what's comfortable, what's real and of real value for us in our house," she says. "It's ever-evolving. There's a conversation in how the pieces speak to one another."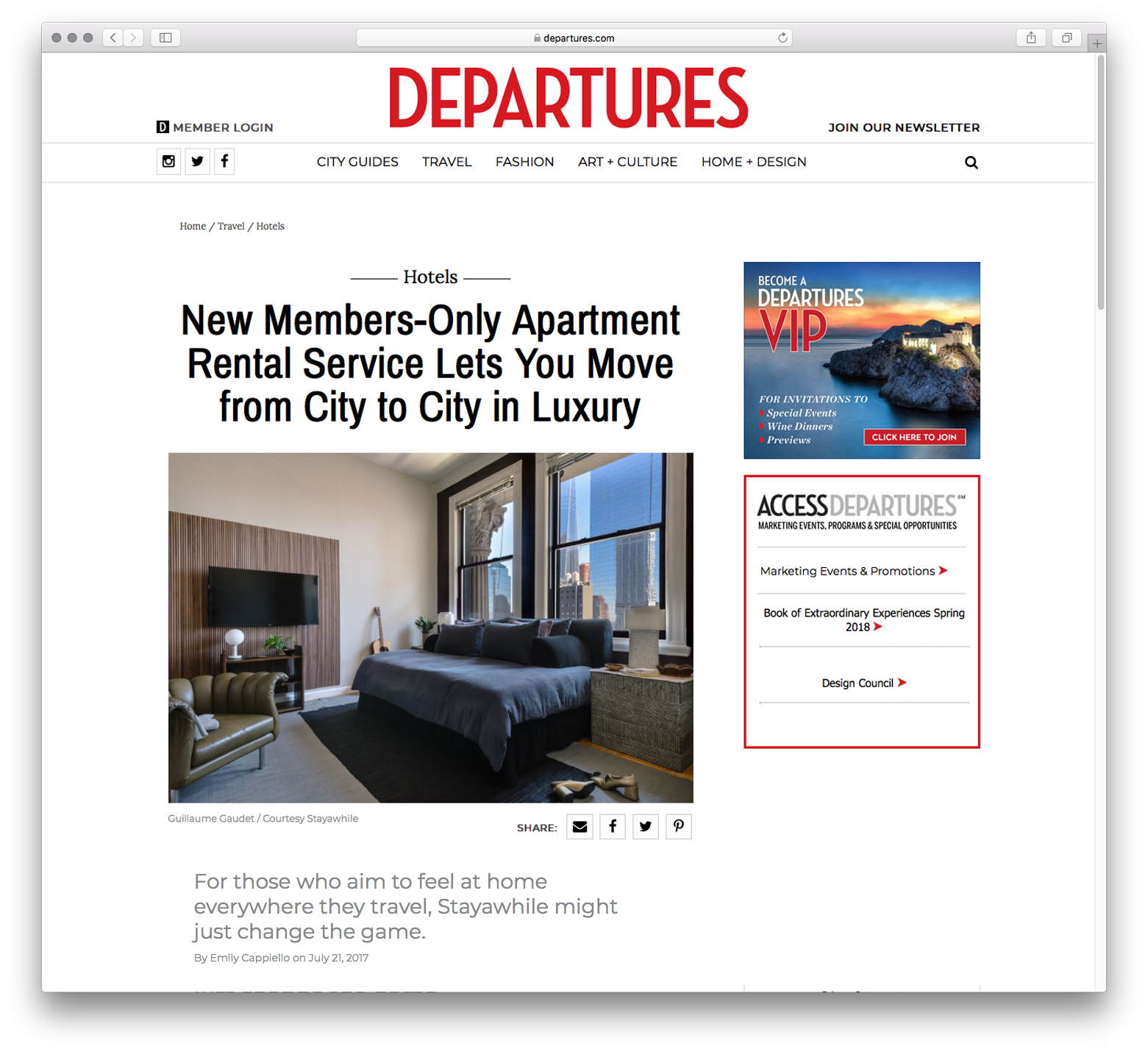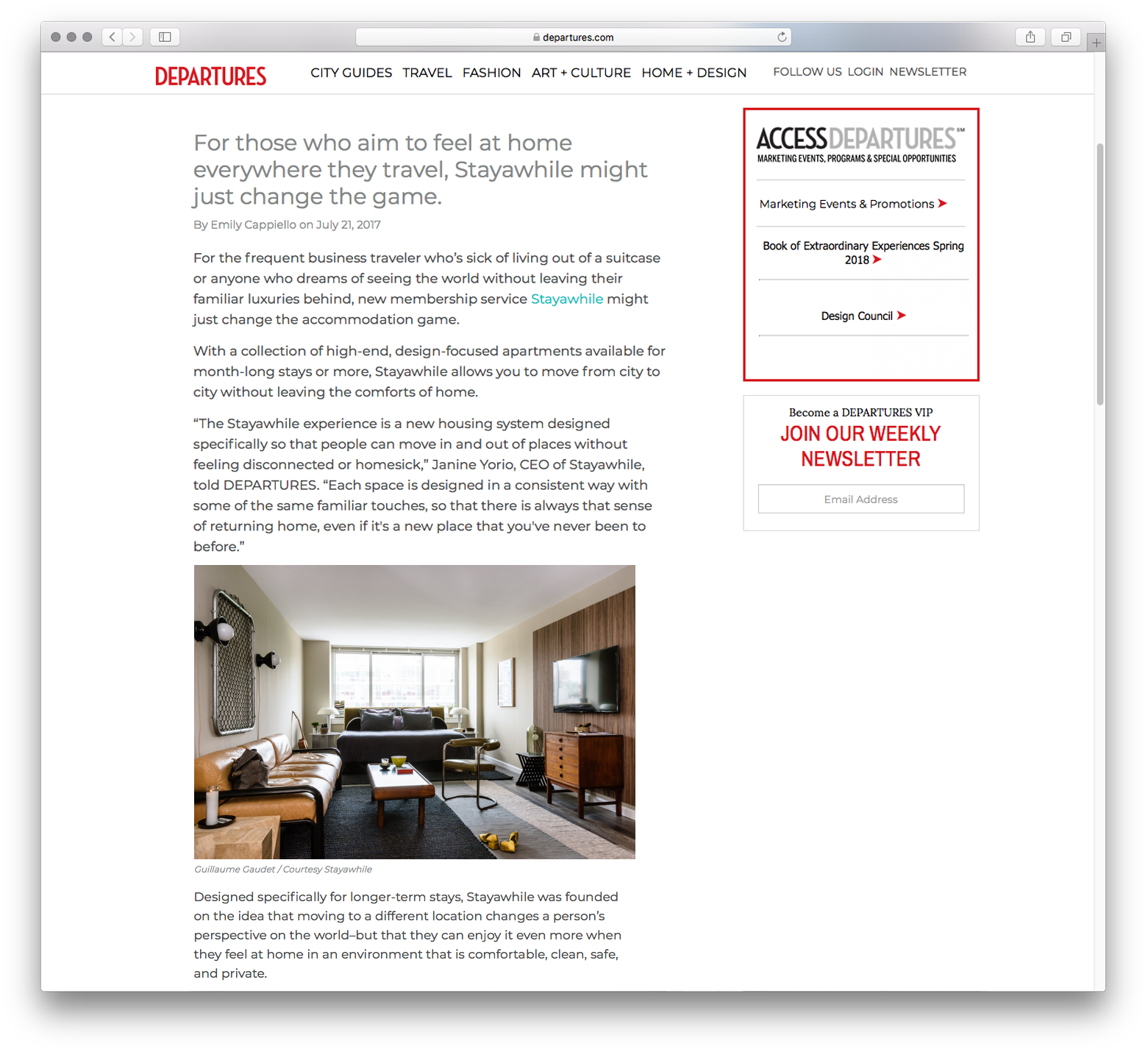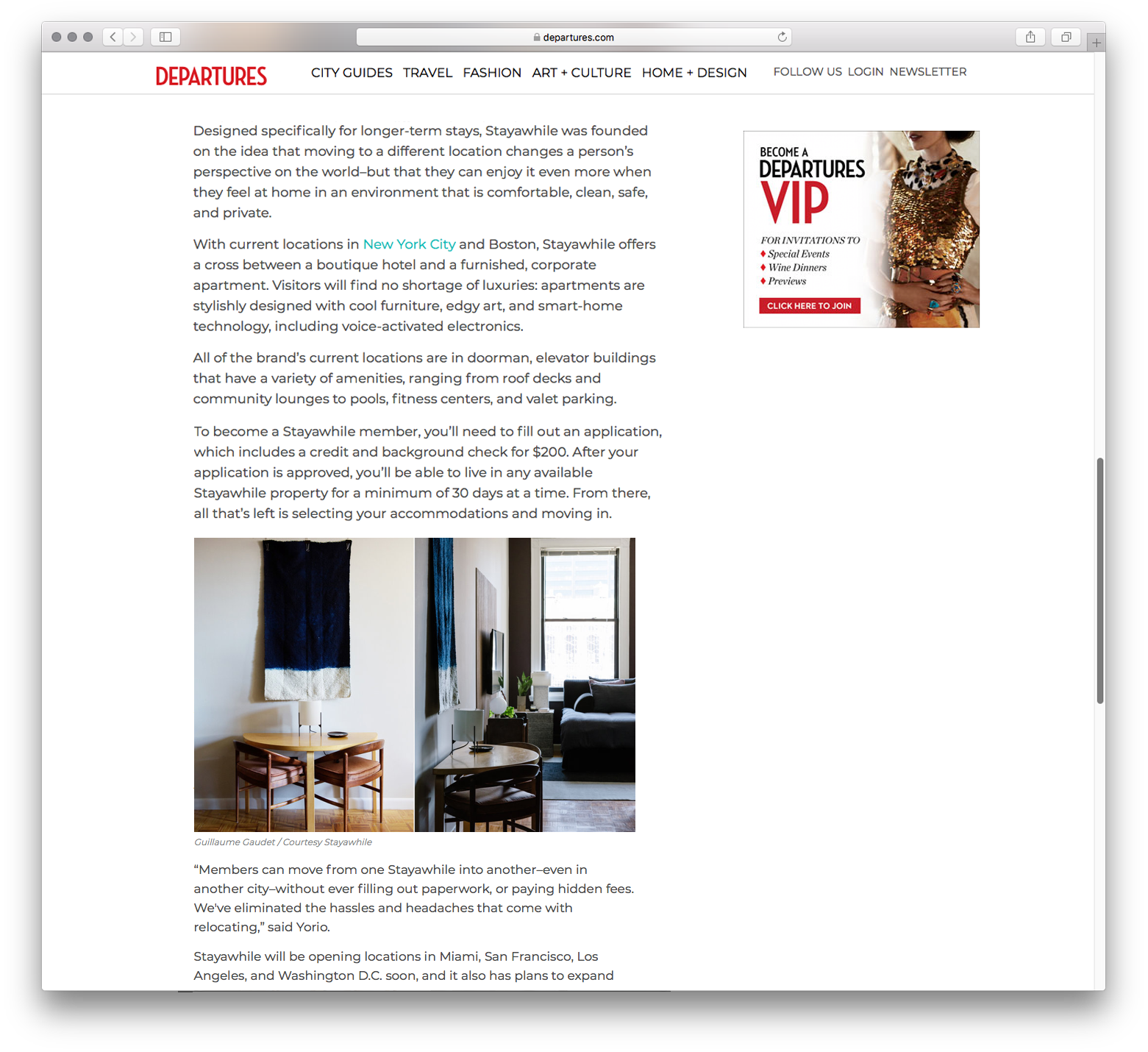 DEPARTURES
JULY 27, 2017
Text by EMILY CAPPIELLO, Photography by Guillame Gaudet
For the frequent business traveler who's sick of living out of a suitcase or anyone who dreams of seeing the world without leaving their familiar luxuries behind, new membership service Stayawhile might just change the accommodation game.
With a collection of high-end, design-focused apartments available for month-long stays or more, Stayawhile allows you to move from city to city without leaving the comforts of home.
"The Stayawhile experience is a new housing system designed specifically so that people can move in and out of places without feeling disconnected or homesick," Janine Yorio, CEO of Stayawhile, told DEPARTURES. "Each space is designed in a consistent way with some of the same familiar touches, so that there is always that sense of returning home, even if it's a new place that you've never been to before."
Designed specifically for longer-term stays, Stayawhile was founded on the idea that moving to a different location changes a person's perspective on the world–but that they can enjoy it even more when they feel at home in an environment that is comfortable, clean, safe, and private.
With current locations in New York City and Boston, Stayawhile offers a cross between a boutique hotel and a furnished, corporate apartment. Visitors will find no shortage of luxuries: apartments are stylishly designed with cool furniture, edgy art, and smart-home technology, including voice-activated electronics.
All of the brand's current locations are in doorman, elevator buildings that have a variety of amenities, ranging from roof decks and community lounges to pools, fitness centers, and valet parking.
To become a Stayawhile member, you'll need to fill out an application, which includes a credit and background check for $200. After your application is approved, you'll be able to live in any available Stayawhile property for a minimum of 30 days at a time. From there, all that's left is selecting your accommodations and moving in.
"Members can move from one Stayawhile into another–even in another city–without ever filling out paperwork, or paying hidden fees. We've eliminated the hassles and headaches that come with relocating," said Yorio.
Stayawhile will be opening locations in Miami, San Francisco, Los Angeles, and Washington D.C. soon, and it also has plans to expand internationally to London, Paris, and Berlin.